Those who can, do; those who can't, teach!
Britain's numero uno, Tim Henman, was knocked out of Wimbledon on Thrusday. Personally, I could never have thought of him as a champion - not an addition to names like Connors, McEnroe, Becker or Sampras. Probably he was never meant to be.

A dejected Henman leaves Centre Court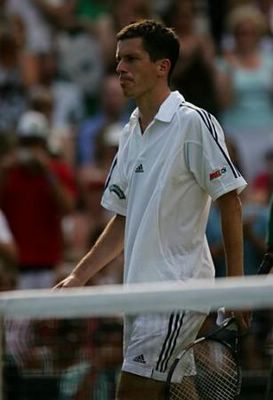 Some news channel commented that it was time for Henman to concentrate on coaching and assisting younger talents, so that Britain could produce a champion tennis player in the future. Given the fact that I have been under the tutelage of some really inspiring teachers, I consider the saying "Those who can, do; those who can't, teach" a travesty. But Henman can forget all that and inspire a clutch of conquerors. Maybe we already have one in Andrew Murray.